Original article on East Hampton Star
In a year defined by the overturning of long-established norms and expectations, doesn't it naturally follow that erotic needlepoint art would be exhibited inside a hot pink shed in East Hampton Village on July Fourth weekend?
Of course it does, and on Saturday and Sunday Hadley Vogel and Abby Lloyd launched East Hampton Shed on Wheels, their new mobile gallery, with the exhibition "Sal Salandra's Thread Art Paintings." The shed, atop a trailer towed by a pickup truck, was parked on Newtown Lane from noon to 2 p.m. on both days, its creators and curators enticing passers-by to have a look inside. Mr. Salandra, who once studied for the priesthood, was also on hand to discuss his provocative-yet-playful, sometimes explicit depictions inspired by "his life experiences, religion, and pornography," according to a press release.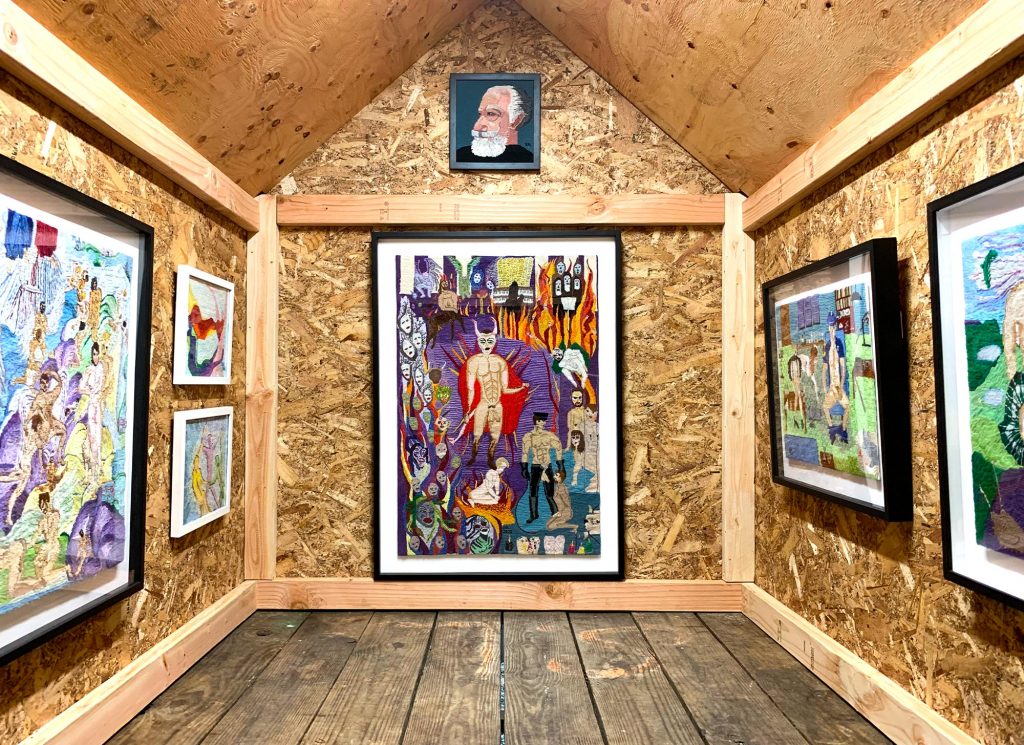 East Hampton Shed on Wheels is a re-imagining of Ms. Vogel's East Hampton Shed exhibition space, which began in a structure on her parents' property. The concept, she said, was influenced by the Suburban, a cinderblock gallery on a residential property outside Chicago, and Gerardo Contreras's Preteen Gallery in Mexico City. Ms. Lloyd is among the artists who exhibited at East Hampton Shed.
Necessity being the mother of invention, Ms. Vogel and Ms. Lloyd, who have known each other since their high school years, partnered to conceive the guerrilla project that is East Hampton Shed on Wheels. "With the current climate — and also [East Hampton Shed] had been around for nine years, it had sort of exhausted its time at that physical location — it's been reimagined," said Ms. Vogel, who is also a bookbinder. "That's where Abby comes in."
"It's a fascinating experience," Ms. Lloyd said on Sunday, observing a quieter-than-usual holiday weekend on Newtown Lane, just outside Herrick Park. "In my childhood, the Fourth of July was really chaotic in town. You'd never want to go in for anything, so we avoided it all of our childhoods, all of our lives. Now we're here and it's like, 'Wait a minute!' "