June 5, 2023
Sal Salandra is a self-taught artist based in East Hampton, New York, most known for his thread paintings depicting joyful, erotic scenes between gay men. Sal's work has been shown internationally, including at the Outsider Art Fair, Club Rhubarb (NYC), and the Tom of Finland Foundation.
*The following interview is a transcription of a phone call between Sal Salandra and Ben Herbert* Originally posted on https://lvl3official.com/sal-salandra/
Ben: So the firstly, tell me a little bit about yourself and what you do.
Sal: Okay. I'm a 77 year old man. I never had any art classes of any kind, but I have created [my] thread paintings because I'm dyslexic, and I couldn't follow a pattern. So I started drawing my own type of sketches. I'm of Italian descent. I'm from a family of seven children, and my twin and I were the last two born. I still have a lot of excitement in my life, and color, due to my Italian upbringing. I was born a Catholic, but I no longer believe in the Catholic Church. I believe religion is between God and me. I have a son. He's 52 years old now, which means that I was married, naturally. I'm divorced now, and I've been together with my husband for 44 years. I live in East Hampton, New York, and I love gardening. I love anything to do with the arts, and, even though I wasn't trained in the arts, I have a very artistic mind and eye.
I should also tell you that I was a hairdresser for 55 years, and I had one of the largest followings in New York City of 700 people. At first I thought it was all about doing the hair, but it really wasn't. It was about communicating with people and helping people get through their lives. I also did another exciting thing: for about a year, I was one of the first male go-go dancers. And I say ''go-go dancer'', because it wasn't athletic dancing. I was just up on a bar gyrating and dancing and getting bills stuffed in my briefs.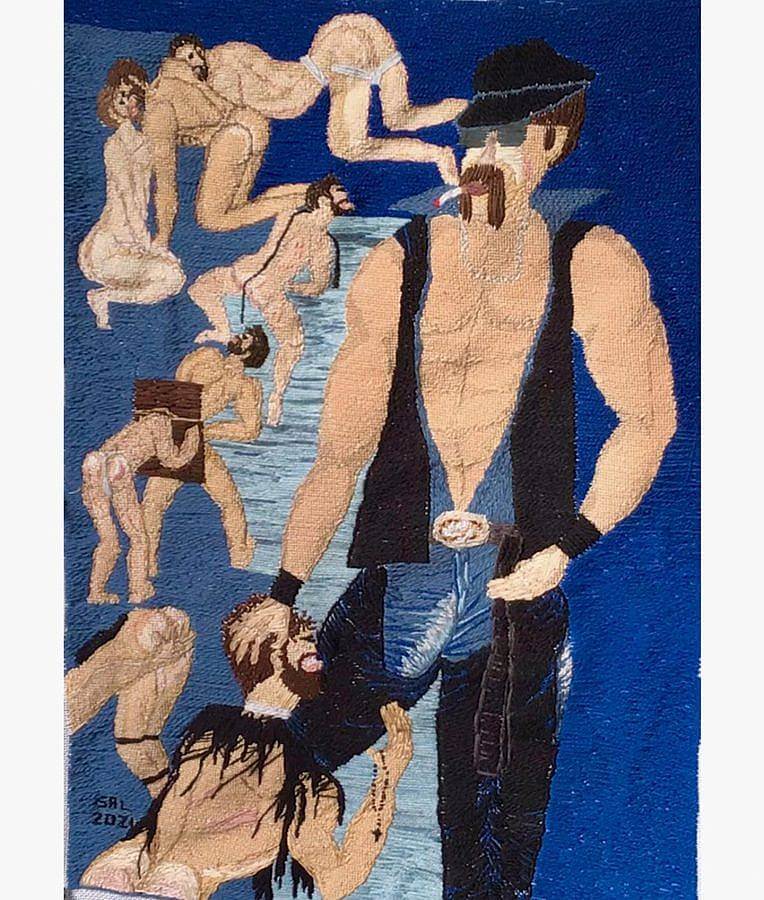 B: Oh my gosh. Do you remember what bar it was?
S: A bar in New Jersey [that] was actually one of the first bars that had male go-go dancing. One of my hairdressers told me about it, and I said, oh, that's great. She said ''you're too chicken to dance like that on a bar.'' I said ''bullshit. I'll do it.'' And I did it, and I had a lot of fun.
B: Do you feel like there's any skills, anything you learned being a hairdresser that you transfer to your art now?
S: Yes. Balance of color is very important. And the other thing that I learned from coloring is that anything with such perfection in it always looks false and doesn't work. So you'll see in a lot of my thread paintings that it's not perfectly done. It's almost got mistakes in it here and there, but I think that adds to the beauty of it. Anything too perfect is not natural looking. If you look in nature's gardens and all, nothing is perfect, and that's the beauty of it. So I've really taken that away from hairdressing and added it to my art. I also learned that dealing with people is very important and how to read people and understand what their feelings are instead of just taking people for granted and not hearing what they have to say as well.
B: Do you remember when you first started making thread paintings?
S: Okay, that's a story. I was actually bedridden for about two weeks with a back injury. My mother-in-law said, ''oh, I have something to take up your time''. And she sent me this little six inch square of needlepoint.
By the way, I don't do needlepoint. I do thread art. It's my own creation. And following little squares does not really make a perfect picture for me.
So anyway, I started sewing this thing, thinking, what the hell am I going to do this for? And I just fell in love seeing thread actually painting a picture right in front of my eyes as I sewed. So [after] I did that piece, I never put Thread down. I've been sewing ever since then, and it's got to have been at least 45 years. Since I am dyslexic, I couldn't follow a pattern, and I started sketching my own sketches. Someone in California heard about my sketching of them, and he asked me if I would do some erotic scenes for him because he had a gallery or some kind of store in Los Angeles. So I did them for him. And that was the beginning of my erotic extension of thread painting. And I loved it. And I've really been doing nothing but erotic painting ever since then. I do erotic painting because I enjoy it.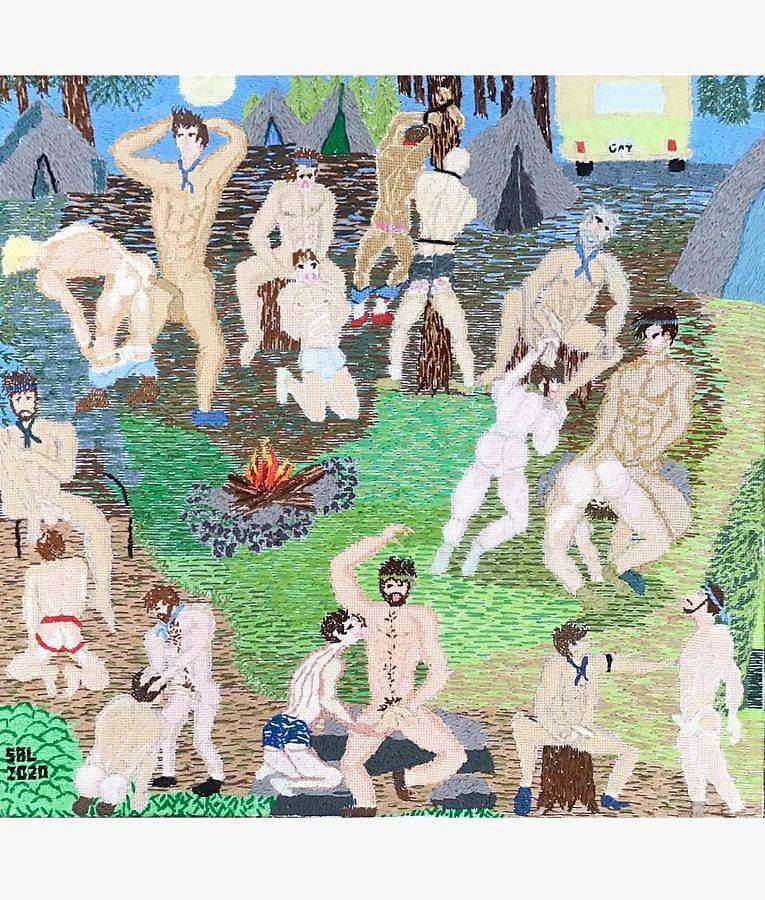 B: How did your thread paintings evolve into the more erotic works of today?
S: I do erotic painting because I believe that too many gay people are suppressed by the churches and they're told how sinful it is, and how wrong it is to do anything erotic…or anything like that. I feel my art is trying to show young men that they can have their sexuality and enjoy it with each other however they like to. God wouldn't have made sex, such a wonderful, pleasurable, experience if he didn't want us to use it. So I hope my art shows, especially gay people, go for it, do whatever you want. When I was younger, I had some of these thoughts, and I thought of how sinful I am, until I saw Tom of Finland's drawings and sketches, and I understood that I wasn't the only one having these thoughts. I want my paintings to show young people that: you're not alone. [That] other people think the same way as you, and it's not wrong and have fun with it. If you're not hurting anyone, it's okay to go with it. Unless a person wants to be hurt, then hurt them a little bit. That's how my art evolved.
When I was young, I was very religious, and I thought I was going to be a priest. So I had this confessor that I would go to. I had a wet dream, and I immediately ran [to him] because I had no experience of masturbation for seven years, because it was sinful. So anyway, I run to this priest, and he makes me kneel down in front of him and tell him my dream. And [then] I realized that he was getting off on my dream, and that was the last time I went to a confession. But it bursted [open] a whole door of exciting artwork [referencing] the Catholic Church, and priests, and being Gay. Going, going, gone. I like to do paintings with crosses, and rosary beads, and dildos, and poppers, and men being fisted on the altar, and the Cross of Christ on the altar as well. I just feel that it should all blend together and it shouldn't be a shameful thing.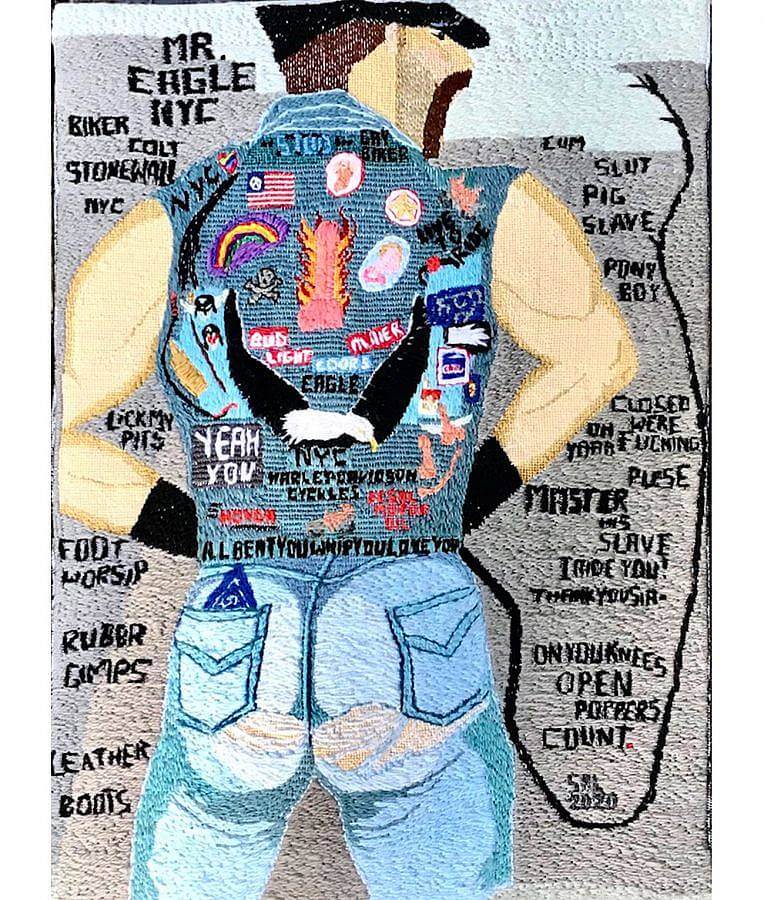 B: How do you come up with the actual context for the scenes? Do they just come to you in dreams? Where do you get inspiration for them?
S: I have to be honest with you. I'll be sleeping and I'll have a dream, and I'll just jump up and sketch it right away. Because when you have a thought, that's when the full idea is in your head. So I try to do what I call a storyboard sketch to keep the idea. And then from that, I go to the size of what I would like the painting to be and sketch out the whole painting; what it would look like. That is an idea of what I'm going to be sewing. Not to say that it's not going to change – I'm not going to keep it exactly the way it is. So in my sewing, if I have a thought, I immediately sketch it. I could also be walking down the street, and I [could be] thinking like, what am I going to do next? And all of a sudden, I see I keep on hearing, what's the name of that painting with the Italian lady with the smirk on her face?
B: Mona Lisa?
S: Mona Lisa. I keep on hearing. Mona Lisa. Mona Lisa. The song goes over and over in my head. I'm thinking like, ''why am I thinking of this?'' And then it hits me. I have to do a painting, not a sketch of an easel, the Mona Lisa and a paddle in her hand. And on the other side of a door is three men with their butts sticking up all red that she just spanked. And the name of the painting will be: ''What's with that smile, Mona Lisa?''
Also, people tell me stories. I did ride a horse, and this one friend of mine was telling me about all these cowboy experiences of how they enjoy sexuality with guns and ropes and saddles and whatever. So I thought, okay, that'll be a great painting. Another one was I was thinking, I really should just do a very simple ass. And I was talking to someone, and he said, ''I have a great picture of my ass, should I send it to you?'' And he sent it to me. And I thought, ''this is perfect!''. So I painted his ass. I had to look at it for five weeks as I was sewing it. I'm 77 years old, so I've gone through a lot of different things in my life, so pieces of it will come back to me, and I will sew them up and get a painting out of it. Someone else had a teddy bear, and I sent him a teddy bear. And he said, ''oh, great, now my teddy bear has a fuck buddy''. So I thought, ''how perfect''. I'm working on a scene of teddy bears, fucking teddy bears, and men being tied up with teddy bears, and men having oral sex with teddy bears, and another teddy bear tying up men and bears to the trees. And in this one little spot, I'm thinking to myself, ''what am I going to do to fill this up?'' And I thought, there's [going to be a] bear shit in the woods.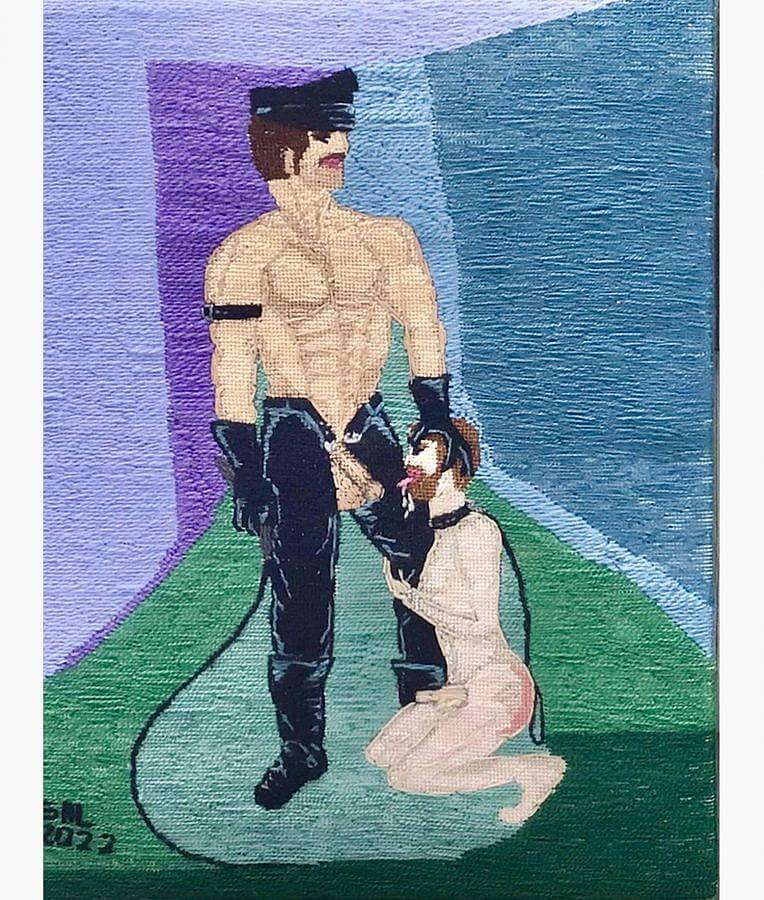 B: Do you have any guilty pleasures, or do you even believe in guilty pleasures?
S: I have pleasures and I enjoy them all. Do I have guilt over them? No. That's what my art is all about. Don't be guilty over anything. Just enjoy it. That's as far as guilty pleasures go for me.
B: Are there any artists, musicians, or creatives in general right now that are super inspiring to you?
S: I have to be honest, I'm not educated in the arts. I just do what comes to me and through me. [Some] people tell me that they see my art and [say] some of it looks like this artist, or this time.
I've been told my [artworks] remind them of Egyptian artwork where you have your main figures and then all these smaller figures all around [them], explaining the story. I really do appreciate everybody comparing me to some of these artists and all, but I'm afraid I really don't even know who they are or the names. I've never really been to college or anything like that, so I can't even think of a name of an artist that influences me. When I see art, if I like it, if it's beautiful, if it was done by a master or a child, that's good art to me, and that's what I like; that's what influences my art.
B: I think in a lot of ways, that's a really good place to be.
S: Like I said, being a hairdresser, people talk to me about it and all, and these people would go to art colleges and schools and everything, and they would be doing great art on their own. And then all of a sudden, a teacher is saying to them, ''that's not the way I would do this. I would do it like that''. So now the art gets thrown into a pool of all these other artists who do everything the same way. I want my art to come from my heart and my mind; I hope that doesn't sound wrong to say that, but I feel I have so much inside me – that's what I want to portray and bring out.
B: No, it doesn't sound wrong. [Another] question, and maybe the most important: if you had to pick one song that describes your artwork and or your life, what would it be?
S: '' Macho, macho man'' and ''I Did It My Way''. Those are the two songs that I think of a lot.
B: Any upcoming projects?
S: I have to say also that I'm on Instagram, and I would love to thank all my friends and viewers for such an incredible response that they give to my artwork. They look for it every day and I post it every day. Tony Cox, [who] I met on Instagram, has a gallery in New York City, Club Rhubarb, and they've been very helpful in promoting my work and I appreciate him very much. That's where all that comes from. When I first started exhibiting my work, which was very minimal, someone saw some of the erotic paintings that I did and he asked me if I could do several paintings for him. So I did twelve thread paintings for him and they wound up in the Outsider Art Fair in New York City. And that's where everything exploded from. [People] just started getting into my art and now it's all over the world. It's been in Europe, Italy, it's been in Germany, it's been in France. I've had many magazines do write ups of my work and someone is going to be making a film about my thread art and part of my life.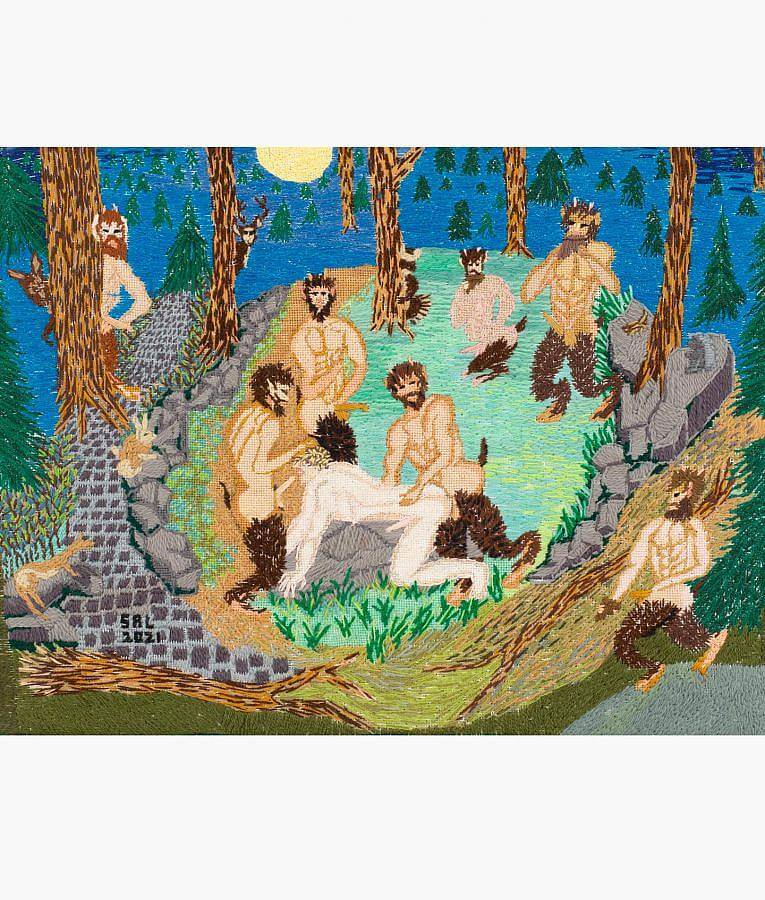 B: Oh, wow. That's so exciting, congrats. And very well deserved, might I add.
S: I'm going to be doing a demonstration of my thread arts for Tom of Finland in New York City on June 24. I'm going to be doing this for is Gay Pride Week. And the name of the place that I'll be doing it for is Ideal Glass Studios (9 West 8th Street, New York City, New York). I'm going to be giving quite an interesting lecture about thread painting. I will have several of my paintings there also, and I'll explain the reason why I use different stitches exhibiting some of the stitching while I'm there. [I'll] show people how the bend of this stitch will make a great branch for a fur tree. How a circular stitch will make the shape of a moon and almost make you look into it, how a certain stitch will give a fur look, whereas another stitch will give sort of a flesh look. The flesh look will be cock and balls, and the fur look will be part of a Satyr. I'm doing [a] painting in front of people of the Satyr, having an orgy [with men], and he's enjoying it just as much as the Satyrs are.
I really appreciate this interview. I'm so thankful that you're willing to get this out to other people. I think it's so important for people to see that erotic artwork and homosexuality is not wrong. I like it to be a little playful and fun for them to see.